Senior Associate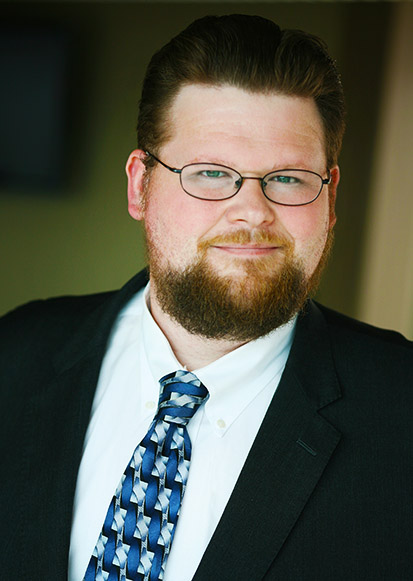 Chad Henson is a Senior Associate at Devlin Law Firm LLC. He was previously an Associate at Skiermont Derby LLP and Nelson Bumgardner PC, two litigation boutiques focused on patent law, and Senior Litigation Counsel for Blackbird Technologies. Mr. Henson has also served as an Adjunct Professor of Law at Texas A&M University School of Law, where he teaches advanced courses in patent litigation.
Mr. Henson represents clients in patent and other litigation matters, with a focus on patent damages and the intersection of patent law with administrative and antitrust law. He has experience litigating cases involving a broad range of technologies, such as lighting, optics, wireless networking, machine-to-machine communication, and consumer electronics.
Before entering private law practice, Mr. Henson held academic and research positions at leading institutions around the United States, including the University of Illinois, Washington University in St. Louis, the Mercatus Center at George Mason University, the Property & Environment Research Center, and the Institute for Humane Studies. He has also served as a consultant to professional and academic research institutions, law firms, and financial services firms, and served as a debate coach to high school and university debate teams. His scholarly work has been published in leading journals in the fields of law, economics, and finance, including the Virginia Journal of International Law, Journal of Banking & Finance, and Contemporary Economic Policy. He has also lectured on patent damages, use of data analytics to predict judicial decision-making, and economic analysis of law at various conferences and seminars.
Areas of Practice
Patent Litigation
Intellectual Property Licensing
Antitrust Litigation
Administrative Law
Appellate Law
Complex Commercial Litigation and Corporate Law
Education
J.D., University of Illinois College of Law, 2011, magna cum laude
M.S., Finance, University of Illinois College of Business, 2015
B.A., Communication Studies, University of North Texas, 2007, academic honors
Honors and Distinctions
Texas Super Lawyers®, Rising Star, 2017-2018
College of the State Bar of Texas, 2017-2018
Admissions
Texas
New York
U.S. Court of Appeals for the Federal Circuit
U.S. Court of Appeals for the Fifth Circuit
U.S. District Court for the Eastern District of Texas
U.S. District Court for the Northern District of Texas
U.S. District Court for the Northern District of Illinois
* Attorney is not barred in Delaware
Representative Cases
Wi-Fi One, LLC., v. Broadcom Corp., No. 2015-1944 (Fed. Cir. en banc). Obtained en banc ruling that the 35 U.S.C. § 314(b) prohibition on appeals of decisions to institute inter partes review does not preclude review of the timeliness of an IPR petition under § 315(b), reversing multiple panel decisions.
Dynamic Advances & Rensselaer Polytechnic Institute v. Apple Inc., Civ. Act. No. 1:13-cv-00633 (N.D.N.Y.). Represented plaintiffs in patent infringement action as member of four-attorney team that secured a $25 million settlement just prior to trial and obtained over $100,000 in fees on a motion to compel.
Itron, Inc. v. Stephen D. Johnston et al., Civ. Act. No. 3:15-cv-330 (S.D. Miss.); Itron, Inc. v. GS Power Ventures, LLC et al., Civ. Act. No. 11946-VCMR (Del. Ch.); In re: Itron, Inc., No. 17-60733 (5th Cir.). Represented plaintiff Itron in suits arising out of undisclosed liabilities in merger transaction. Obtained multi-million dollar settlements from former stockholders, then brought suit against officers in negligent misrepresentation action and defense of counterclaims for fraud, obtaining successful settlement.
Selected Articles & Presentations
Patent Infringement: A Legal and Economic Outlook, The Knowledge Group, March 2017.
SEC Enforcement in the PIPE Market: Actions and Consequences, 42 JOURNAL OF BANKING & FINANCE 213 (2014, peer-reviewed, with Ola Bengtsson & Na Dia).
Judging Bias in Competitive Academic Debate: The Effects of Region, Sex and Side, 31 CONTEMPORARY ECONOMIC POLICY 420 (2014, peer-reviewed, with Paul R. Dorasil).
Law & Economics of the Legal Profession, ECON 4550/5550, University of North Texas, 2014- 2018 (annual lecture).
Regulatory Effectiveness in Onshore and Offshore Financial Centers, 53 VIRGINIA JOURNAL OF INTERNATIONAL LAW 419 (2013, with Andrew P. Morriss).
Regulatory Effectiveness in OFCs, IFC REV. 8 (2012) (with Andrew P. Morriss).
Bringing Debate into the Classroom, Liberty & the Art of Teaching Workshop, George Mason University, July 2012.
SEC Enforcement of the PIPE Market: Actions and Consequences, American Law & Economics Association 22nd Annual Meeting, Stanford Law School, May 2012.
Judicial Politics and Judicial Virtue, Humane Studies Fellows Research Colloquium, Alexandria, VA, November 2011.
Regulatory Intensity and Offshore Financial Centers, Scholarship and a Free Society, Bryn Mawr College, June 2011.
Judging CERCLA: an Empirical Analysis of Circuit Court Decisionmaking, 4 JOURNAL OF APPLIED ECONOMY 69 (2010, peer-reviewed).
An Overview of Caribbean Securities Exchanges, 21 CAYMAN FIN. REV. 88 (Oct. 2010).